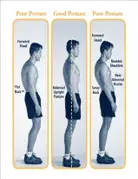 As part of his wellness mission, Dr. Scott Hodes regularly makes himself available to conduct Free Wellness and Scoliosis Screenings for local Community Groups and Organizations, as well as for individuals.
Scoliosis Screenings are quick and easy; a screening takes only a few minutes of your time. Standing alongside our Portable Screener, Dr. Hodes can do an analysis of your spinal alignment and share his findings with you.
Call our office to arrange for a Free Screening for your group or organization. We can work with you to set up a date and time that works for you. Dr. Hodes can present a short informational talk and then do complimentary screenings for all attendees.
If you would like a Screening for yourself and/or your family, please call and speak to our Receptionist to make an appointment to come in for your Free Screening!
Call our office to set up a Free Screening for yourself or your organization: (203) 754-2300.